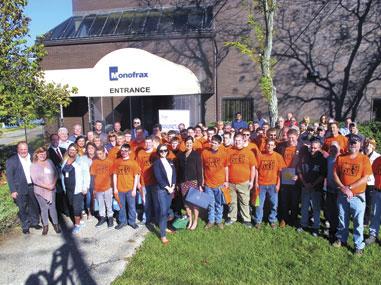 Several current and future manufacturers were on hand near Jamestown to celebrate a day set aside for them in Chautauqua County on Friday. A number of local leaders and about 30 students from Randolph were on hand for a "Manufacturing Day" proclamation at Monofrax in Falconer. County Executive Vince Horrigan had been in Dunkirk earlier in the day for a P-Tech program with Athenex, which plans to open a major manufacturing plant in the north county. In addition to the added jobs, Horrigan noted that several thousand people will be retiring over the next few years...
Vince Horrigan: many retiring
Governor Cuomo's local representative, Lori Cornell, was also on hand. Cornell says the great news of the Athenex plant start-up is another indication that New York State is bettering its business climate...
Lori Cornell: Athenex
Cornell adds that Cuomo has also supports the program that sponsored Friday's program, "Dream It -- Do It" of Western New York. Cuomo supported the $500,000 Consolidated Funding Application grant for the program, helping it get off the ground.
Photo by the Post-Journal