A celebrity turned senior advocate visited the Dunkirk area Wednesday to announce an endorsement in the 23rd Congressional District race. Jon Bauman, better known as "Bowzer" from Sha Na Na, appeared with Jamestown area Democrat John Plumb to announce the endorsement of Plumb by Senior Votes Count! Bauman co-founded the group that's dedicated to preserving Social Security and Medicare. He says they like where Democrat John Plumb stands on the issues and are critical of incumbent Republican Tom Reed's voting record...
Bauman-Critical of Reed's record on senior issues
Plumb, who grew up watching Sha Na Na, says he appreciates having the backing of Bauman...
Plumb-Pleased to have Bauman's support
Plumb has been crisscrossing the district in recent weeks, speaking on a number issues. He's challenging Reed who is seeking his fourth term in the House.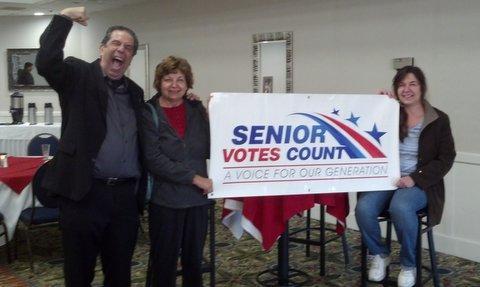 Jon "Bowzer" Bauman is joined by some supports of candidate John Plumb