Area Congressman Tom Reed's town hall meetings that will be held in Chautauqua County on Saturday will likely draw a number of protestors. WDOE News has learned that a number of groups are expected to send protestors to the meetings, that are opened to the public. During a conference call he held with area media outlets including WDOE News earlier this week, Reed indicated that there will no change in the format of the meetings...
Reed-No pre-screening
Chautauqua County Democratic Party Chairman Norm Green is encouraging Democrats and non-Democrats alike to attend the meeting...
Green-Encouraging Democrats and non-Democrats to attend
Reed expects a number of issues to be raised at the meetings, including the repeal of the Affordable Care Act. The Town Hall meetings will be held Saturday at 9:15 am in North Harmony and at 11:30 am at the VFW Post in Cherry Creek.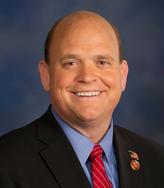 Congressman Tom Reed