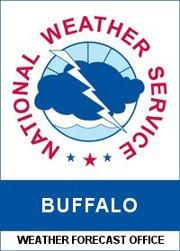 The National Weather Service in Buffalo has issued a high wind watch, which is in effect from 5:00 PM Sunday until 8:00 PM Monday.
LOCATIONS...Chautauqua and Southern Erie counties. Strongest winds will be found along the Lake Erie shore and near northwest facing slopes.
TIMING...From late Sunday afternoon through early Monday morning.
WINDS...Southeast 30 to 40 mph with gusts up to 60 mph.
IMPACTS...Damaging winds will be possible which may bring down some trees and power lines and result in power outages. Some property damage is also possible, especially to roofing and siding. Travel in high profile vehicles will be hazardous.
A flood watch is in effect for a portion of Western New York from 1:00 AM Monday until 6:00 PM Tuesday.
LOCATIONS...Allegany...Cattaraugus...Chautauqua...Genesee...Livingston...Monroe...Niagara...Orleans...Erie...and Wyoming counties.
TIMING...From late Sunday night through Tuesday afternoon.
IMPACTS...Moderate to heavy rain of 2.0 to 2.5 inches will result in considerable runoff into area creeks and rivers. Small streams and creeks, low-lying and poor drainage areas may experience flooding Sunday night through Monday. Larger streams and rivers will take longer to respond with flooding possible later Monday into Tuesday.