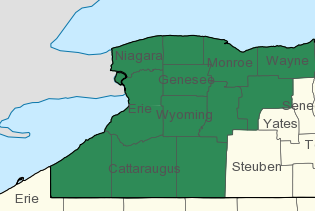 Freezing rain that has hit portions of Chautauqua and Cattaraugus counties will wind down late this morning, but there is some more wild weather on our way. Meteorologist John Hitchcock with the National Weather Service in Buffalo says warmer air will move in from the south and change the freezing rain to rain. Hitchcock says we'll see occasional rain showers this afternoon, but the rain will begin to intensify tonight...
John Hitchcock: moderate to heavy rain
Some parts of Western New York could get as much as 2 1/2 inches of rain through Tuesday. In addition to the rainfall, Hitchcock says we'll be dealing with some gusty winds, with gusts over 50 miles per hour in northern Chautauqua and southern Erie counties...
John Hitchcock: gusty winds
A wind advisory is in effect from 5:00 PM today until 8:00 AM Monday, and a flood watch is in effect from 1:00 AM Monday to 6:00 PM Tuesday.
Areas under a flood watch are in green.