The cool, wet spring weather is expected to continue for a while longer. A Flood Watch remains in effect through Tuesday afternoon for Chautauqua, Cattaraugus and Erie counties. Meteorologist Kirk Apffel of the National Weather Service expects the rain to continue through much of the day, with about 1 to 1.5 inches of rainfall expected today before the rain changes to snow later today and overnight...
Apffel-Rain will continue for much of the day
Colder air will be moving into the area later today and that could bring some accumulating snow to the higher elevations, about 1 to 2 inches overnight.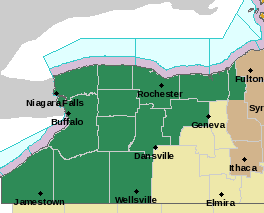 Flood Watch in green