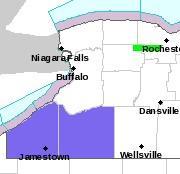 The spring snowfall continues across much of Chautauqua and Cattaraugus counties this afternoon. There's enough snow accumulating to prompt the National Weather Service in Buffalo to issue a winter weather advisory until 8:00 PM. According to meteorologist John Rozbicki, snow has picked up in intensity during the early afternoon hours, and we are expected to get anywhere from three to six inches of the white stuff through the evening...
John Rozbicki: been snowing for much of the day
Rozbicki says the greatest accumulations will be across the higher terrain and on grassy or elevated surfaces. Drivers will need to adjust to the winter driving conditions.
Areas under a winter weather advisory are in purple.
submitted photos of snowfall across the region