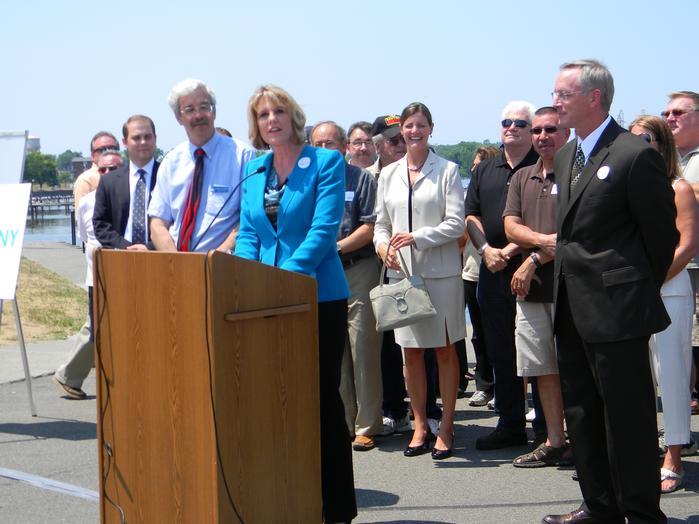 A new coalition of state lawmakers and workers met Thursday afternoon on the Dunkirk Pier to announce their efforts to take on the biggest construction project in Chautauqua County's history. Coalition leader, State Senator Cathy Young, supported a $700 million proposal to re-power the NRG plant...
comment here
Young says their goals fall in line with state projects to recraft the state into an economic giant which is open for business. She said that starts with businesses like NRG, which was considering mothballing the plant just a while ago, and is now making the proposal to privately invest $700 million into the plant to re-power the system, and keep the largest tax payer in both the county and the city safe...
comment here
NRG Director of Development John Baylor says the project would happen in two steps. The first step would be bringing in a natural gas pipe, and modifying the facility to run on both natural gas and coal. The second step would be finishing the system and removing the coal parts from the facility.
Young said completion of the project doesn't just have a positive effect on the economy, but the environment too, despite a recent $200-million investment into NRG's clean coal facilities...
comment here
But County Executive Greg Edwards, a member of the coalition, says the battle is not yet won. He says there is a lot left to do, including writing letters to state and county lawmakers...
comment here
Edwards said those letters show the level of seriousness and togetherness the county can put forward. John Baylor says NRG will continue to work with the coalition to show it needs approval from the state, because without a state contract, the project can not move forward. Members of the coalition said the proposal is currently in the hands of the New York Energy Highway Task Force.