Below you can see the featured pets
from the Chautauqua County Humane
Society, Lakeshore Humane Society,
Northern Chautauqua Canine Rescue and
Westfield Stray Cat Rescue.

Also help us find the owners of these lost pets below.
____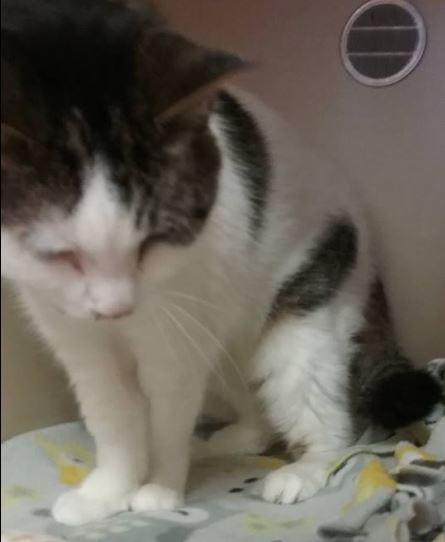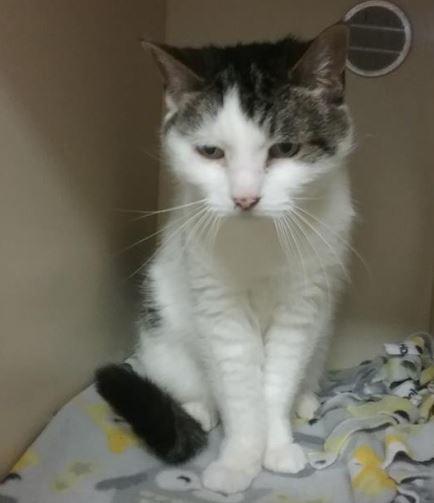 Found seeking shelter before the cold spell, early January 2018, vicinity Chestnut Street and Risley, Fredonia, NY
Declawed female cat, very vocal
Please contact Lakeshore Humane Society if you recognize this cat or have any information as to how to locate the owner
(716) 672-1991
Facebook --Lakeshore Humane Society, Dunkirk, NY
www.lakeshorehumanesociety.org
Missing since Thursday morning (10/12/17) Scared by dogs, ran outside on Hoyt Street in the city of Dunkirk, area between Doughty Street and the railroad tracks. Expect she will run several blocks in any direction and seek shelter in shed, bushes, back porch, etc. She is a tortie under 1 year old, was malnourished and sick when she was rescued, needs to get back and finish her medicine. She is very friendly to people and not aggressive or dangerous. If you find her, please contact Lakeshore Humane Society by calling 672-1991, through our Facebook page, (Lakeshore Humane Society-- be sure to choose the Dunkirk one!) or visit our website: www.lakeshorehumanesociety.org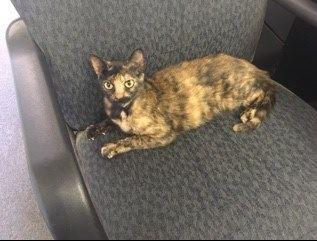 My two kitties went missing from my friends farm. Last seen in Ashville/Mayville NY on 7/28 This passed Friday. Both are spayed/neutered. Tabby is Mink/Minky & the white is Sasha/Sashie. Mink is a real big & chubby boy. Sasha is a peitie female. There is good chance they are together and may be making their way to Irving(like the Homeward bound movie I love) I am very worried about them as the farm was an emergency place for them due to moving issues. If seen/found please call me 716-948-6263. They are very friendly, Mink is a bit shy but Sasha will come right up to you. Mink will for food! Thank you!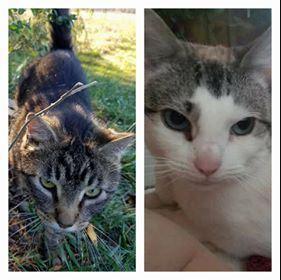 Buddy is a very large cat. (about 17pounds)
He is very skittish, but loving at home.
He was lost in the Dunkirk area. Please contact Sabrina if found!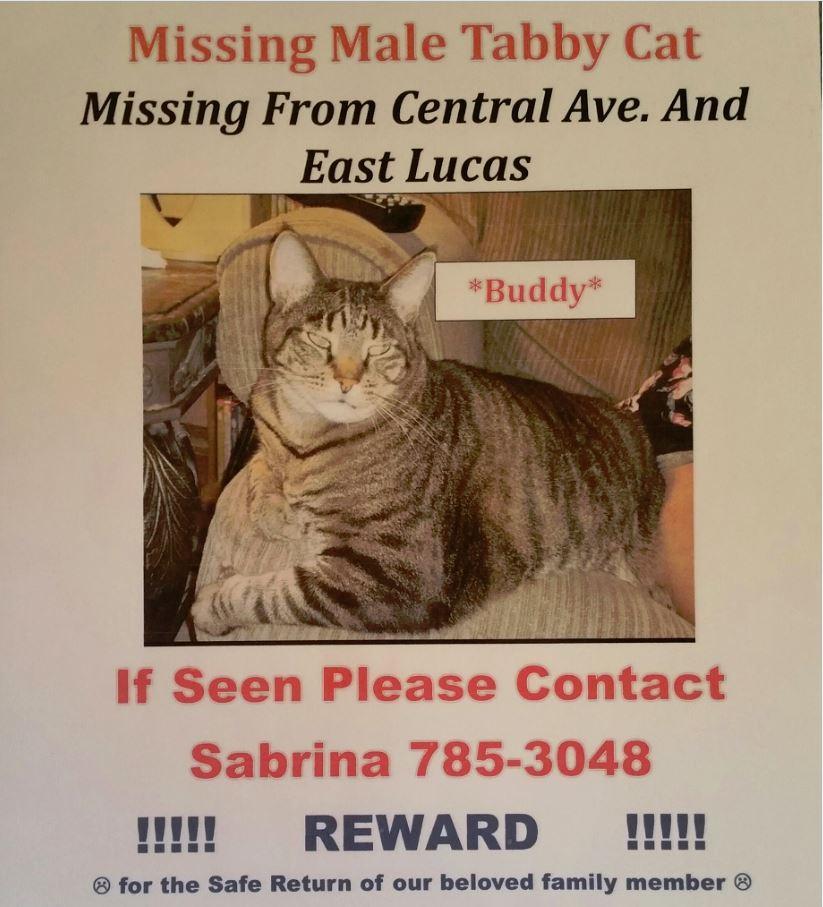 _____________________________________________________________
- "Saving one animal will not change the world, but surely
for that one animal, the world will change forever."
_____________________________________________________________

Missing a Pet? Found One?
Check out the Facebook group below and Share it!
Let's Reunite Love!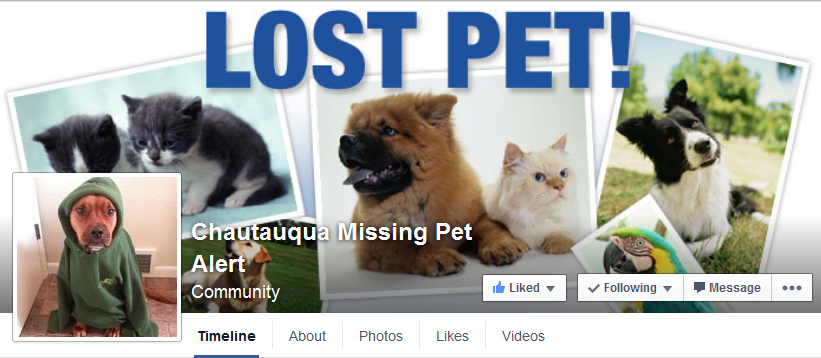 ---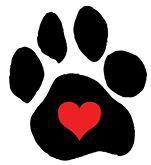 Chautauqua County Humane Society
Pets of the Week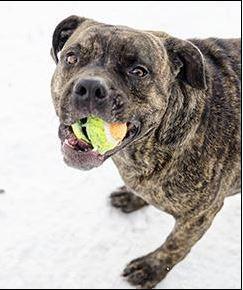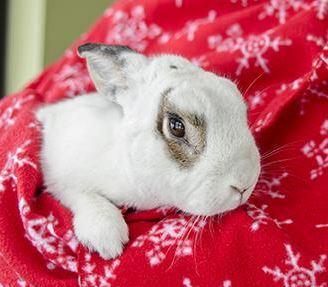 This week we are featuring "Gibson" and "Milky Way".
Gibson is a 3 year old loveable goof! He loves to run around and play with his squeaky toys! He would do best in a home where he is the only pet and with kids over the age of 5. Milky Way is a 3 year old house bunny. He is neutered and looking for a forever home and family to call his own. He is sweet and likes to be carefully held. If either of these pets sounds like the one for you, please stop by the Strunk Road Adoption Center and ask to meet them. You will be glad you did! For more information or questions, please call (716) 665-2209 ext. 200.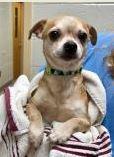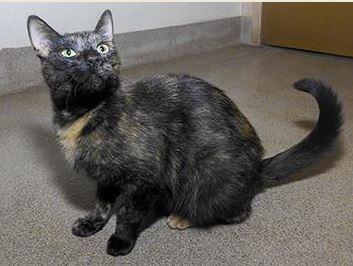 "Alec" and "Sybil". Alec is a 2 year old Chihuahua that likes to cuddle. He enjoys looking out the window as much as sitting in your lap. He can be a bit cautious at first but he warms up. He is looking for a home without small kids. Sybil is a 1 year old beauty of a cat that is friendly and will take all the attention you can give her. She is sweet and ready to move into a forever home of her own. If either of these pets sounds like "THE" one for you, please stop by the Strunk Road Adoption Center and ask to meet them. You can be the 2nd chance they need. For more information or questions, please call (716) 665-2209 ext. 200.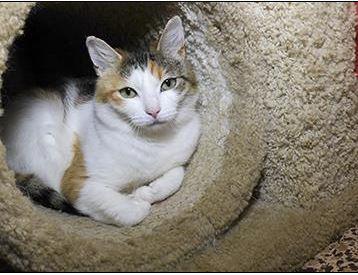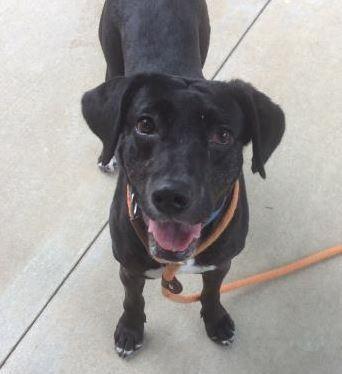 "Connie" and "Twizzler". Connie is a 1 year old kitty that is really ready for a quiet home of her own. The commotion at the shelter is a bit much for her causing her to hide from it. She would be best in a home without small children and with a family that will be patient with her as she finds her way. Twizzler is an 8 year old lab mix that came from a not so great beginning. She is unsure around new people and places, but given time settles into a routine. She will need a special home with people that will give her the time she needs and that will continue to work with her to help her adjust to life in a home. A fenced yard is a must for her. Twizzler would prefer to be the only pet. If you have the heart and home for either of these two special pets waiting for their 2nd chance, please stop by the Strunk Road Adoption Center and ask about them. They are waiting for the love and caring of a real family. For more information or questions, please call (716) 665-2209 ext. 200.
---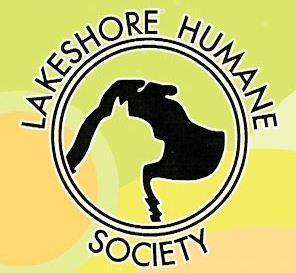 The Next Adoption Days are:
April 26th 6 PM - 8 PM
May 5th 12 PM - 4 PM
Please come to our semi-monthly adoption days from noon until 4pm at 431 East Chestnut Street, Dunkirk. You can make a special appointment to see any of our adoptable dogs or cats by calling 672-1991, visiting our Facebook page (Lakeshore Humane Society), or contacting us through our website: www.lakeshorehumanesociety.com
If you can't make the adoption day, you can contact us by calling (672-1991), visiting our Facebook page (Lakeshore Humane Society,) or connecting with us through our website:
www.lakeshorehumanesociety.org
Courtesy Listing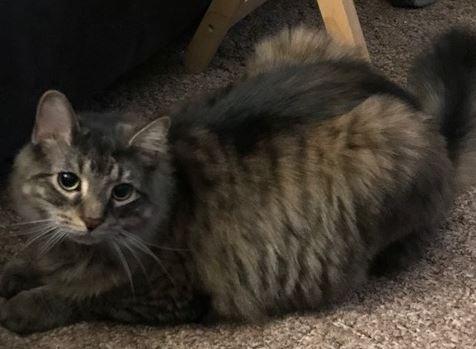 New home needed:
Bubba is a 3 year old male Maine Coon mix.
He was found in the bumper of a car.
He seeks your affection but is cautious because he has been exposed to and pursued by dogs. When he knows he's safe with you, he'll approach you for love and hugs.
He is strictly indoors, gets along well with other cats, but not so much with kids.
He is neutered, up to date on shots and ready to be your forever friend.
Call 410-6796. Chad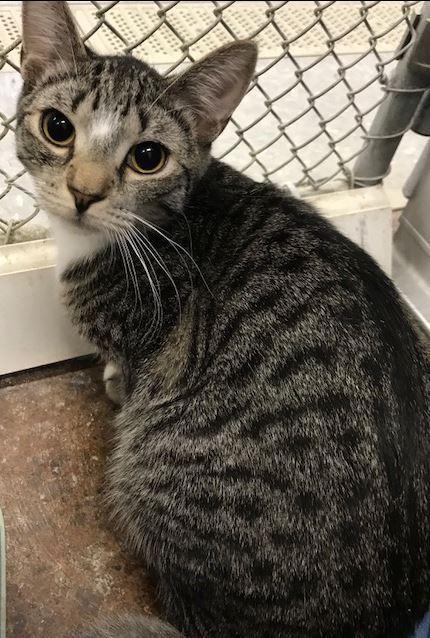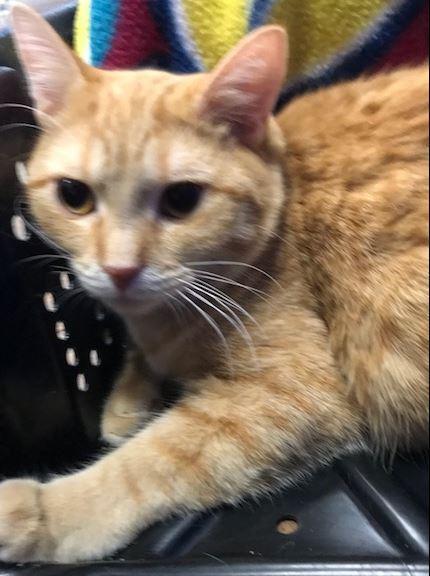 The "Seaweed Kittens"
These two young cats need a home, but they are not the type to run up to visitors and say, "Pick Me!" Phillip, the adorable tabby and white, was trapped at the city fishing pier, and was frantic in his efforts to be free. His name is a take-off on Full Up, because when he calmed down, we noticed a bloated stomach that the vet found full of seaweed. This resourceful guy found a way to keep himself from starvation! Andrew, a beautiful orange caught a few days later, was not as upset, but greatly resists being touched. Quiet, gentle, and rather somber, these two have never learned to play and enjoy life. Phillip can be persuaded to sleep on your lap while you pet him, but Andrew has not reached that level yet. They need a peaceful, patient home with people who understand their reticence and will give them time to learn to trust and relax.
---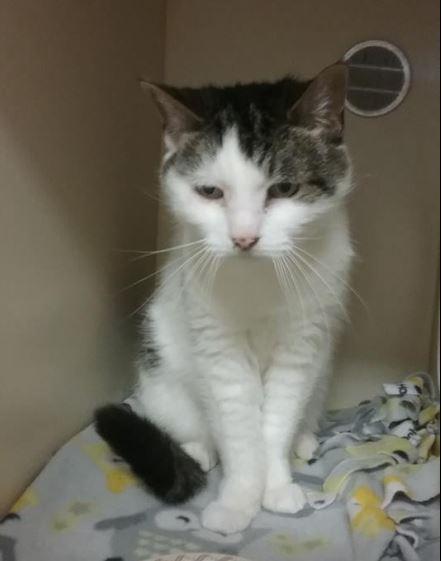 Madelaine
This female declawed cat was found in a playhouse in Fredonia shortly before the frigid winter weather started. Attempts to find her owner have not been fruitful, and she needs a home. Madelaine is a special needs cat, requiring thyroid medicine twice a day, but she takes her pills easily. Mostly white, with a tabby head, tail and spots on her back, she is estimated to be about six years old. She was very upset and angry at finding herself outside and unable to cope, but she has become calm and quiet, perhaps a little depressed about losing her home. Her adoption fee is reduced by 50% to a kind home.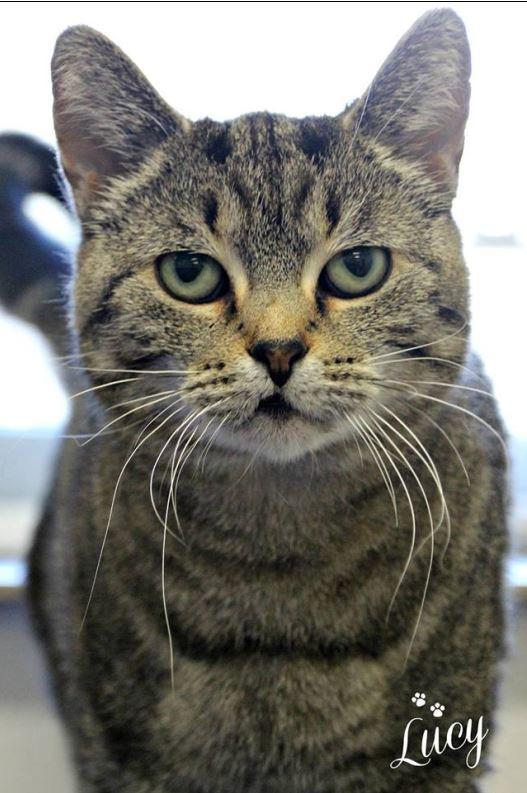 Lucy
This gray and white short hair is a laid back female, about 6 years old. She has had some dental work which makes the right side of her mouth look a little quirky. She is very healthy, gets along with other cats and will be a nice addition to your family.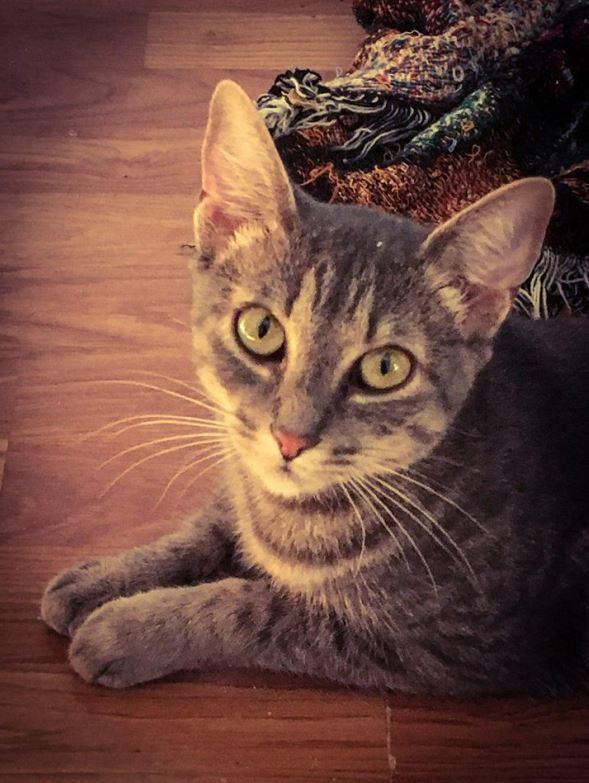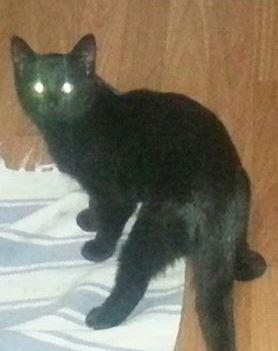 This pretty little mother was found with two surviving kittens early last December, and was protective and devoted to her babies. One of the kittens is still with her, now four months old, and can be adopted as a pair at a special rate. She is a pretty, soft gray, and her little guy is all black.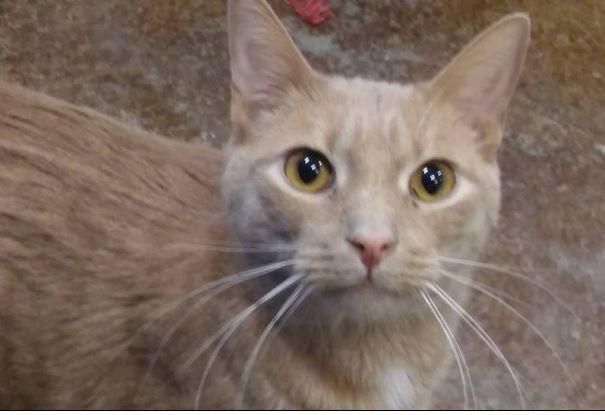 Monte: This handsome buff colored male was found at Routes 20 and 60 in Fredonia. He was almost hit by a car, so the driver stopped and picked him up, and he did not object at all. He probably was confused and frightened and didn't know where to go in the traffic. Monte was already neutered and very friendly, so obviously was a pet, but efforts to find his owner have not been successful, and he needs a home.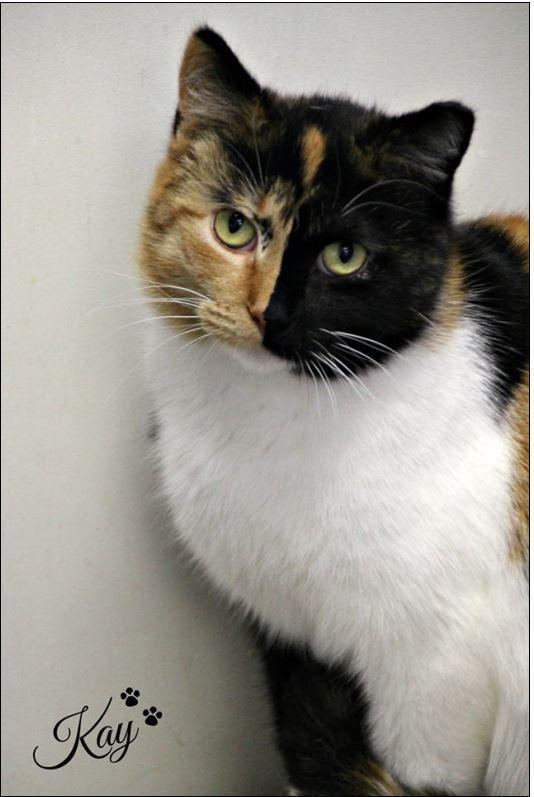 "Kay" This unusual little female is a calico that looks like a chimera, totally different on either side of the center of her face. The left side of her face is plain black, while the right side is mostly orange with some black and white markings, divided exactly down the center. Some chimeras have different colored eyes, but Kay does not. She is a little shy, but sweet, and a little special attention will work wonders.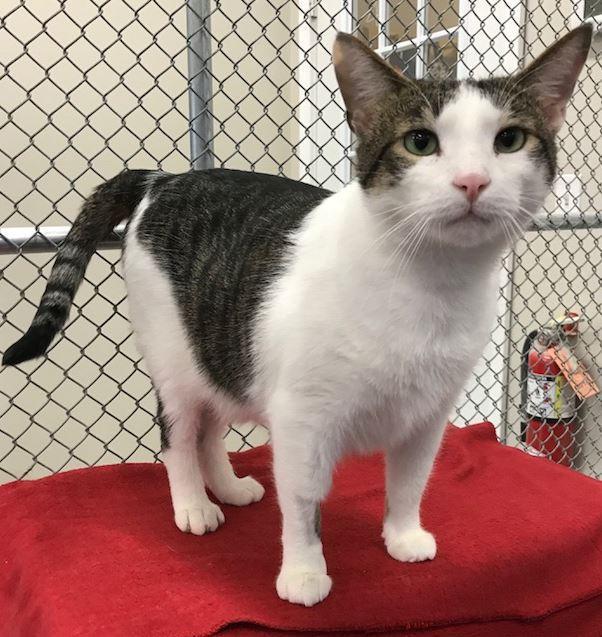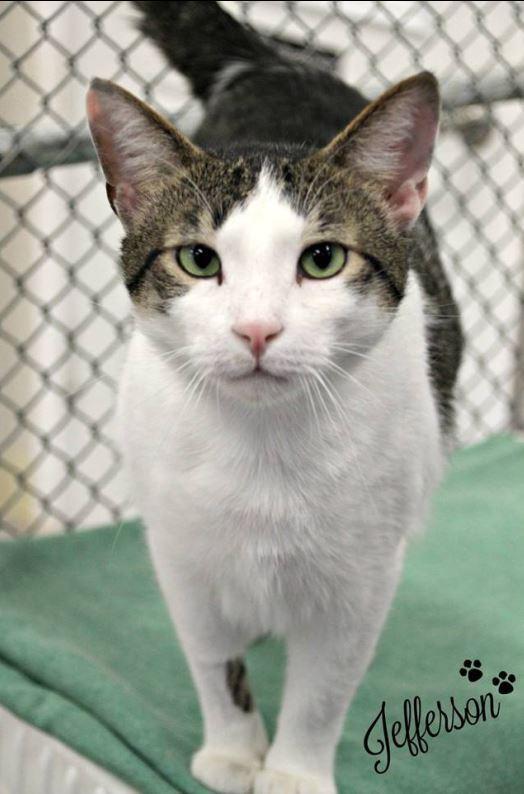 Jefferson gets along well with other cats and loves kittens. This handsome short haired cat has beautiful green eyes, snowy white fur with a tiger back and "curtain part " hairline. Jefferson was born in November 2015. He is laid back and friendly, and gets along well with other cats. What a wonderful pet!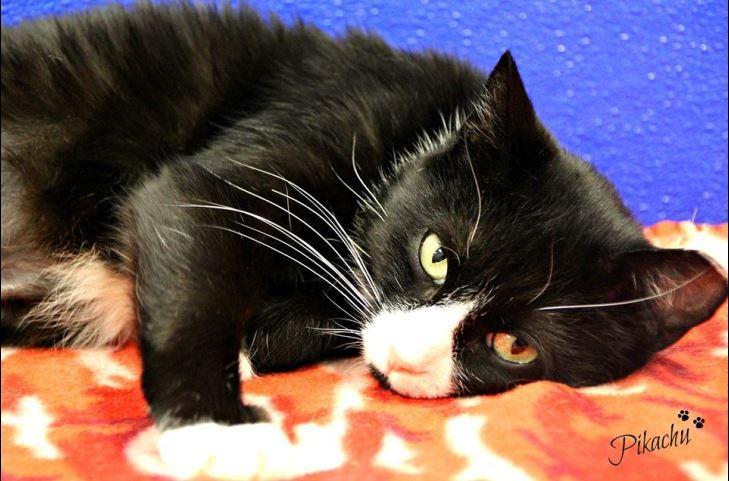 Pikachu: This sweet young shorthaired female is a little shy. She was outside and homeless her entire life, but rescued just before the critical cold spell this year. She is reserved but friendly and likes to be petted. Having a home is a new wonder for this adorable black cat with the cutest white touches you can imagine. She is very humble and quiet while adjusting to the good life.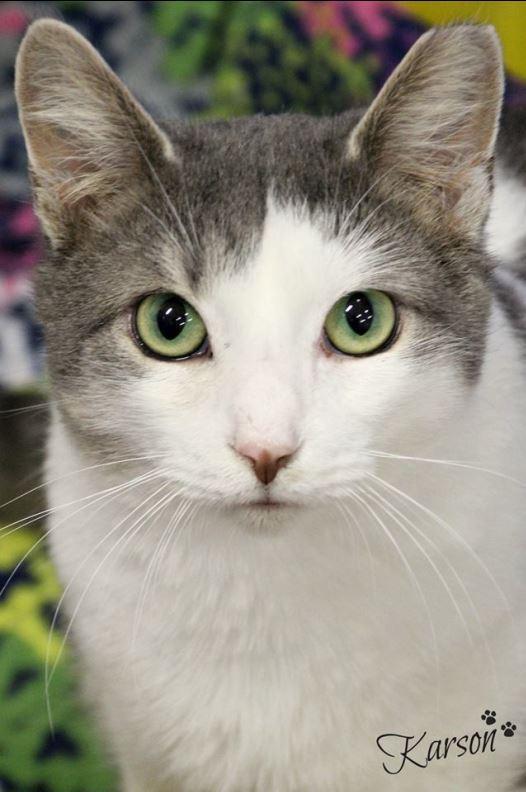 Karson is about two years old and has beautiful green eyes. He was a very independent stray until he became ill and needed treatment. After being trapped, he was frightened and angry, and would hiss and swat. Just when we were giving up hope of his becoming an adoptable pet, he started talking to his favorite rescuer and approached to be petted. After that, it was a quick turnaround. Although Karson still has some reservations about being picked up, and does not like to leave his cage where he feels relaxed and safe, he is playful, gets along well with the other cats, and loves to be petted. This handsome guy may need time to adjust to a new home, but soft food (he loves it!) patience, and affection will win him over. Once he gets to trust his new surroundings, he will be a faithful, loving pet.
TABBY CATS:
Research indicates it was during the Ottoman Empire that the genetic mutation responsible for the blotched tabby cat coat pattern emerged. This pattern, which is in 80 per cent of present-day cats can be found all over the world. The English term tabby originates from the translation of the French phrase "striped silk taffeta", the root of which is tabis, meaning "a rich watered silk."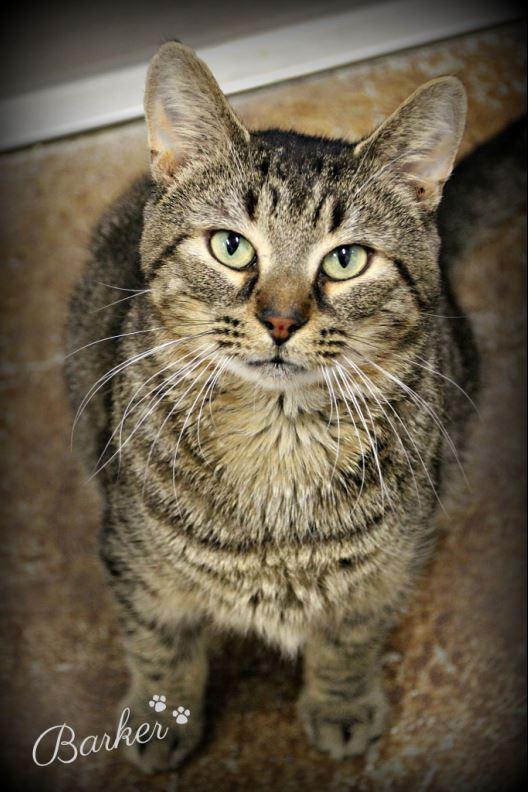 "Barker" is a short haired gray tabby who is about 1 1/2 years old. He loves people and attention. Barker is neutered, up to date on his shots, and ready to share your home.
Suzie is about two years old. Her owner passed away when she was a year old, and her life changed drastically. This pretty cat has yellow green eyes, medium long fur, and a tail like a feather! Suzie would probably be best in a home without other pets or young children.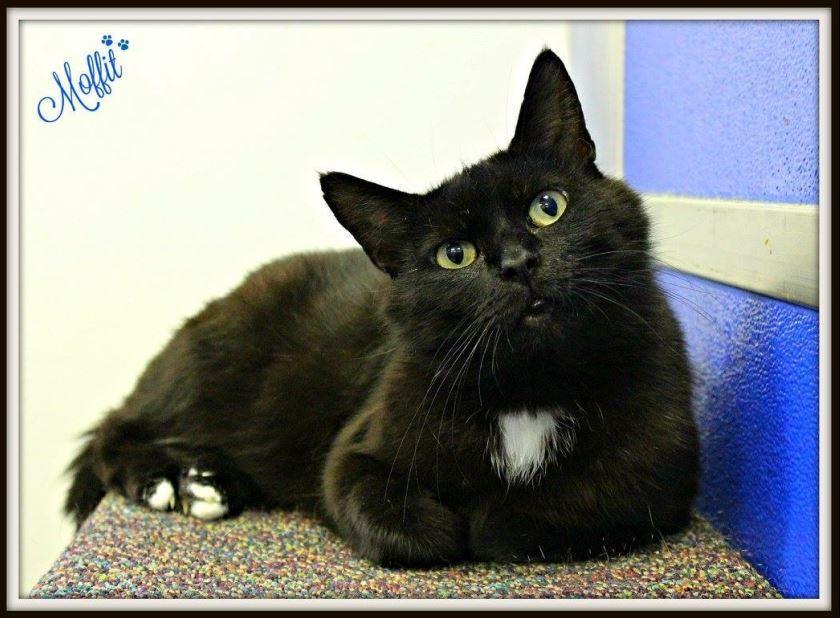 Moffit
This sweet black and white cat came from First Ward in Dunkirk. She has mostly black fur with a splash of white at her chest, and some white on her feet. She is estimated to be a little over 5 years old. Although somewhat shy at first, Moffit is a nice, gentle cat who is very healthy and is excellent in getting along with other cats.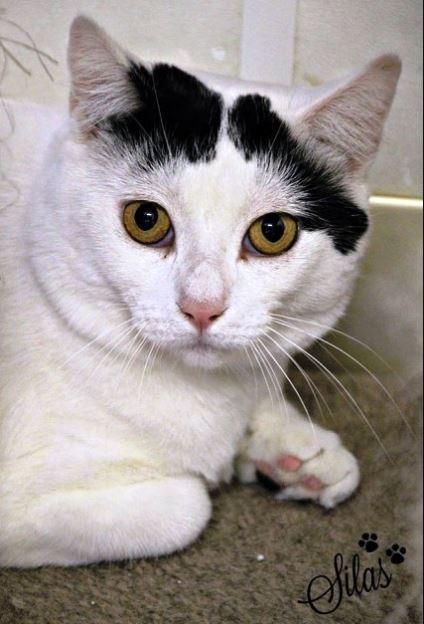 Silas: This young male was found in a wooded area populated by coyotes. Since he seems to know humans, we believe he was either "lost or tossed." All the changes in his life been confusing to him, so he is still a little hesitant and afraid, but he is not aggressive. In time, with a little love and the chance to feel safe, he will be a very attractive pet.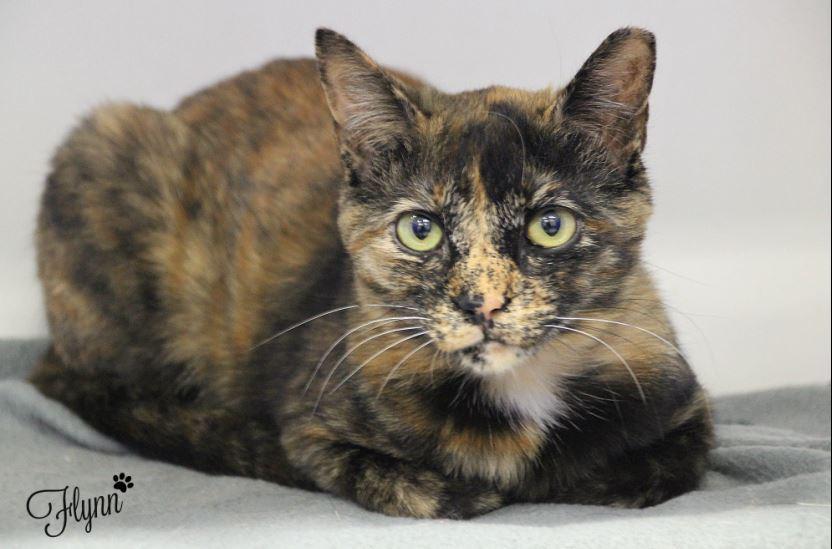 Despite the name, Flynn is female. She is a beautifully marked 10 month old tortie, with lots of orange, and the cutest face. She has really come out of her shell since she came to us, and become very friendly and trusting. She really enjoys being petted and having her fur brushed, and seems to get along with other cats.
Dogs are available for adoption: All dog adoptions require a pre-home visit and references will be checked.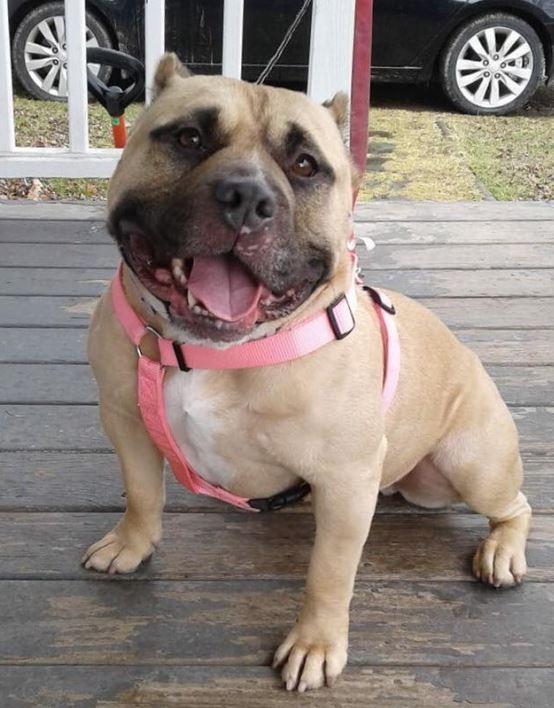 Chicana is a beautiful 4.5yr old American Bully mix. She's a friendly girl who loves everyone she meets. Chicana spent much of her time living outside and is now looking forward to being spoiled. She will need some work with basic training but she is smart and is eager to please. Chicana needs to be the only pet.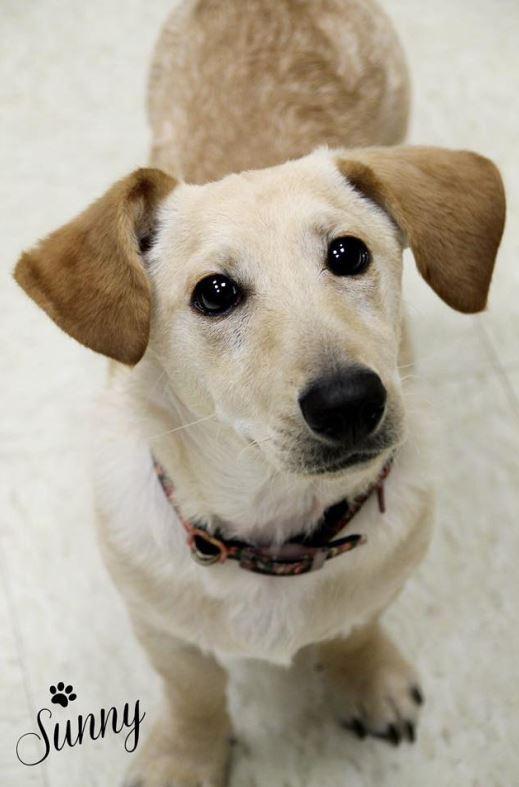 Sunny is quite a cutie He is less that a year old, full of energy and snuggles, and is a very, very interesting combo platter of breeds (as you can see!). This guy is just as sweet as that little face of his would lead you to believe.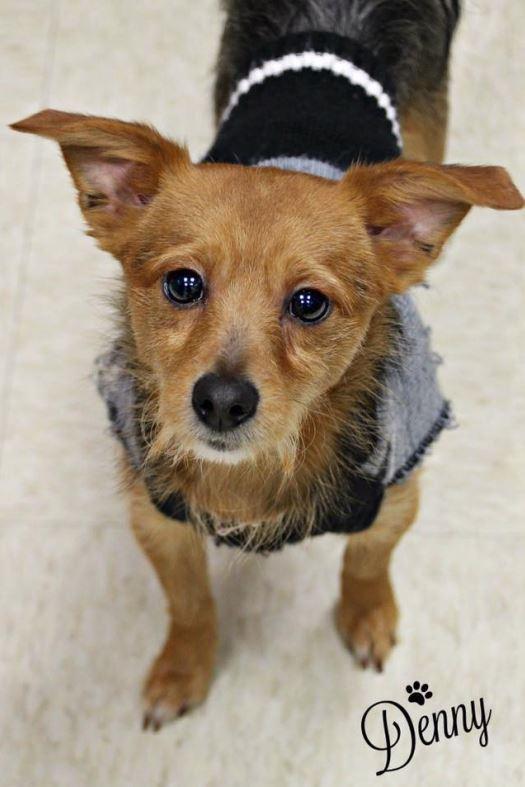 Denny came to us as surrender. He's a friendly little puppy who loves everyone. A home with a fenced yard is preferred as he is an escape artist.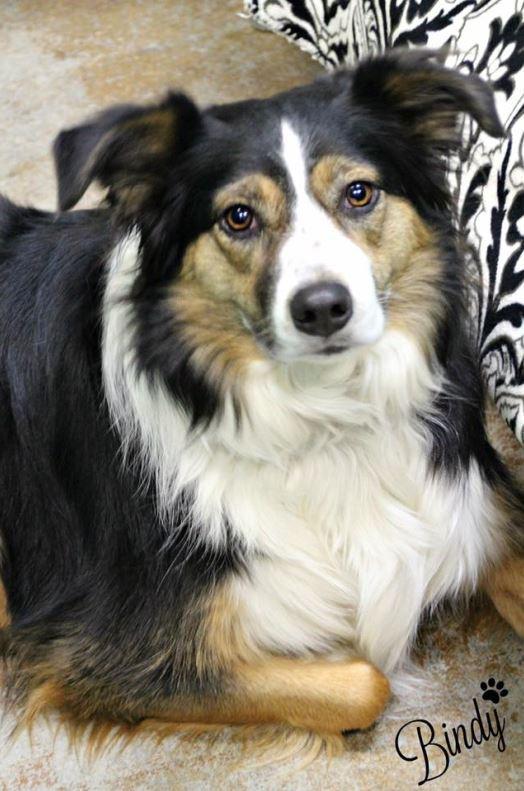 Bindy is a 3yr old Australian Shepherd. She is incredibly sweet although a bit shy. She hasn't been around other other pets but may like the company of another easy going, submissive dog. Bindy would make a wonderful addition to any calm, loving home.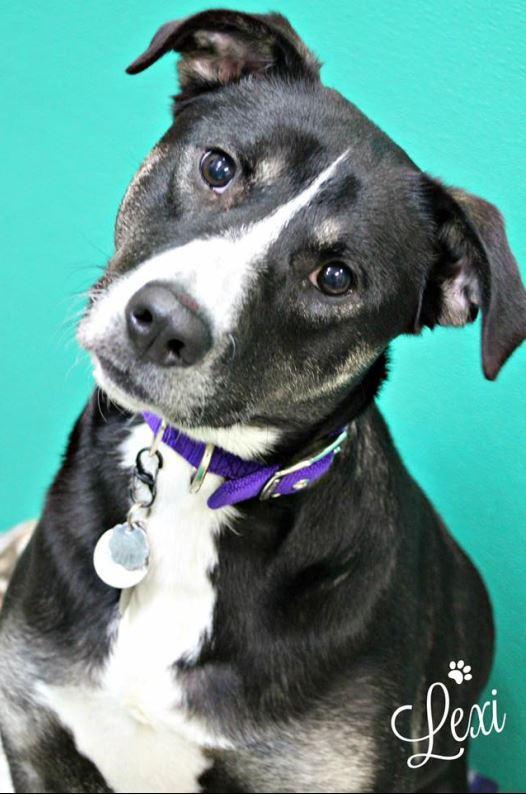 Lexi is a year and a half old mix breed. She is a very sweet, friendly girl and loves everyone she meets. She needs a little work walking on a leash but using a harness has already shown some improvement. Lexi does know several commands and is housebroken. She would make the perfect companion for an active family.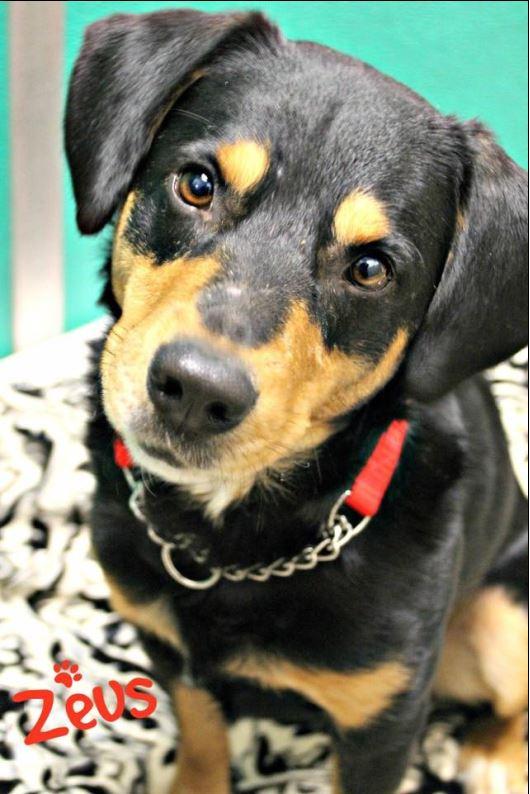 Zeus is a 6-7yr old handsome mix breed. Think of a hound dog in a Rottie suit. He loves outdoor activities and going for car rides. He really loves anything as long as he can be around his people. Zeus is working on his leash walking skills and will need his owner to continue helping him with that.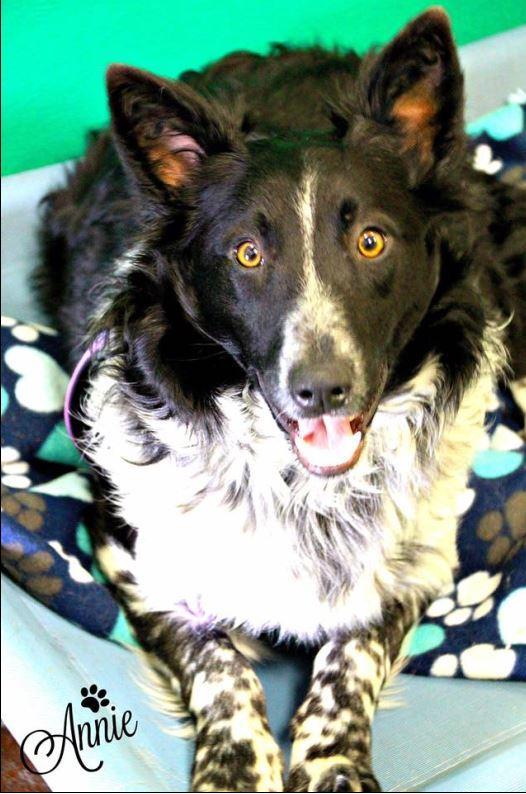 Beautiful Annie is an Australian Shepherd/ Border Collie mix who is approximately 11 months old. She came to us very frightened and timid but is slowly coming out of her shell. Annie is a very sweet girl who will need a patient, loving owner who is familiar with the breeds. She will need a lot of exercise, as both Border Collies & Aussies are very energetic, active dogs. She does not walk well on ...a leash, in fact it seems to scare her, so her owner will have to help her overcome that. We would like to find her a home with a fenced in yard so she can enjoy some much needed playtime.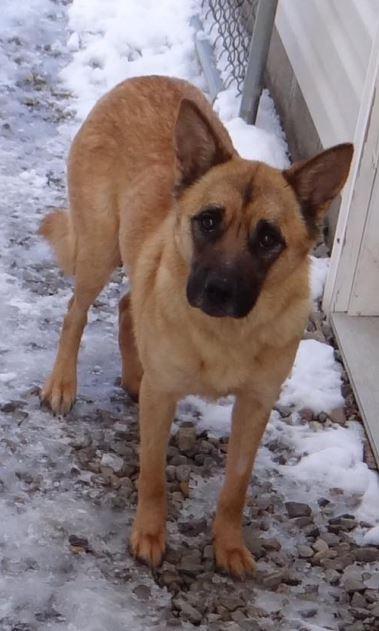 Meet Maddie, a shepherd mix who is approximately a year and a half old. This beautiful girl,along with her litter of 5 pups, arrived at LHS all the way from a kill shelter in Tennessee. After getting some medical attention and TLC, Maddie and her pups are ready for their forever homes. Maddie is smaller in size, about 40 pounds. She is a friendly, gentle girl who loves being around people. Maddie ...seems to do well with other dogs, although another calm, submissive dog would be best. Maddie does know some basic commands and is housebroken.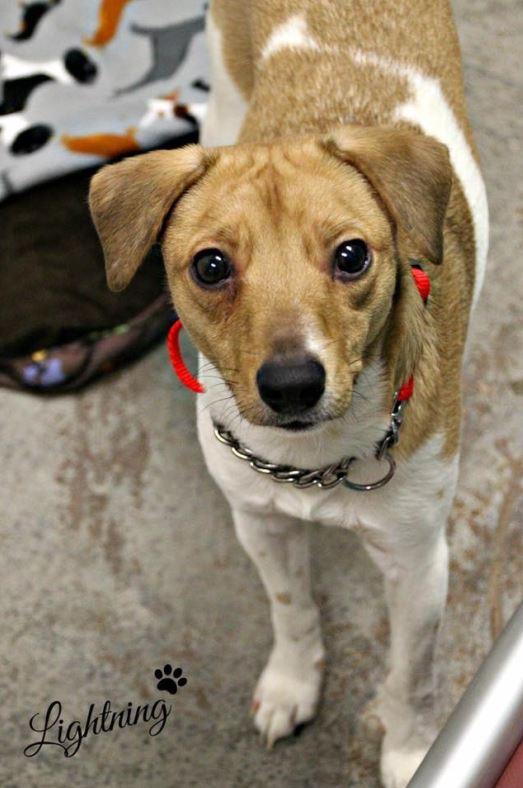 Lightning is a 7 month old Jack Russell/ beagle mix. This little boy is sweet as can be. He he tends to be a bit nervous of new things and loud noises so his new home needs to be calm and patient with him. He does open up once he feels safe. We are suggesting only older children with him because of this. Lighting does love attention from people and enjoys being around them. Once you win him over, he will follow you everywhere.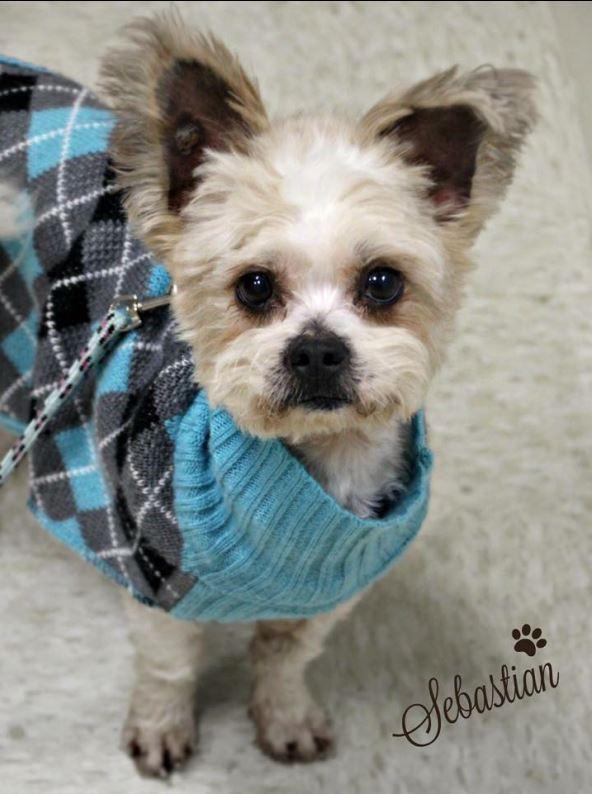 Sebastian is a Maltese/ Yorkie who is approximately 8yrs old. We don't know too much about him since he was left at our door with another dog in a dirty crate. They were both very matted and had fleas. After a trip to the vet and groomer, along with some TLC , Sebastian is ready for his new home. He is a perfect lap dog and loves to be held. He would be a great companion for a senior.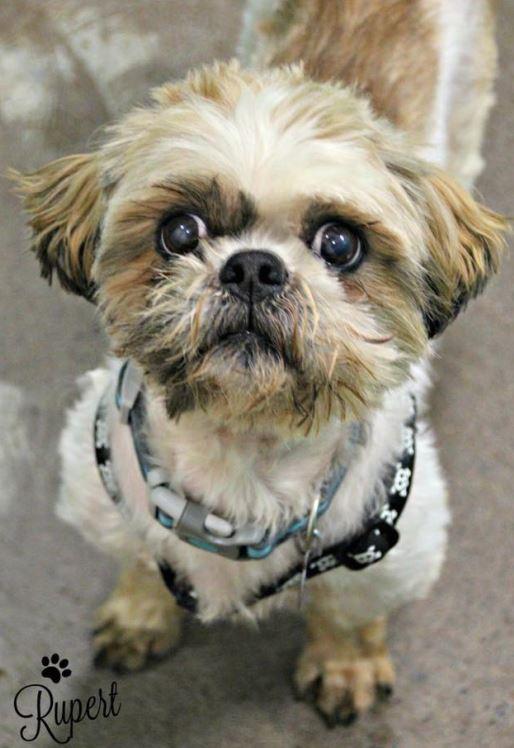 Rupert is a sweet shih tzu who is approximately 8yrs old. We don't know too much about him since he was left at our door with another dog in a dirty crate. They were both very matted and had fleas. After a trip to the vet and groomer, along with some TLC , Rupert is ready for his new home. He is a perfect lap dog and loves to be held. He would be a great companion for a senior.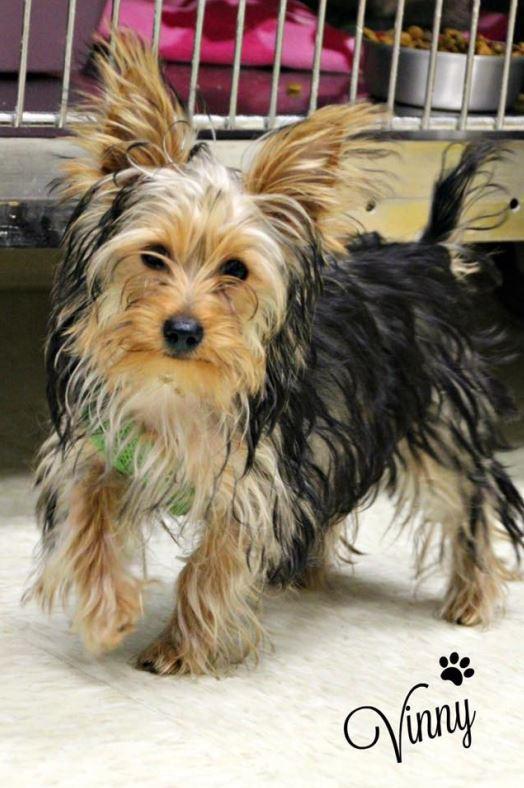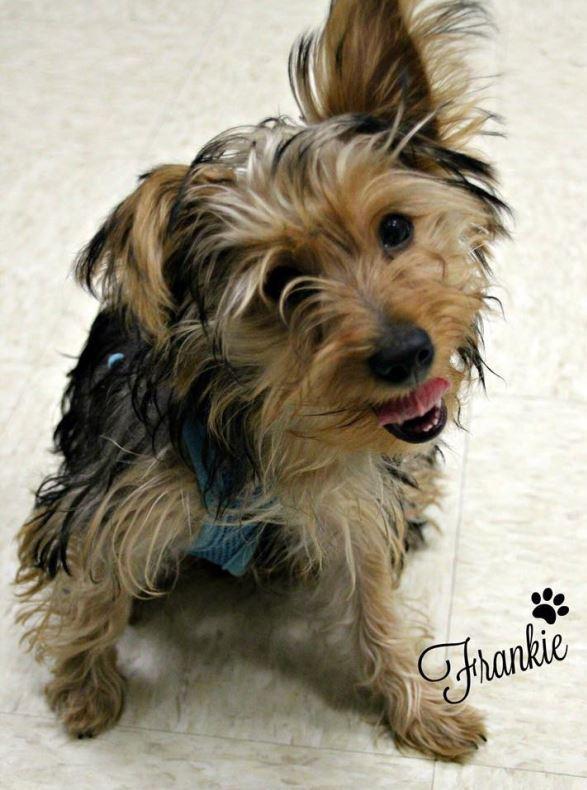 Vinny & Frankie are adorable Yorkies, born in September 2017. Being typical puppies, they are very playful and energetic. These two cuties will need a home willing to teach them basic commands and work on housebreaking. They can be adopted together or go to separate homes (preferably that has a playmate).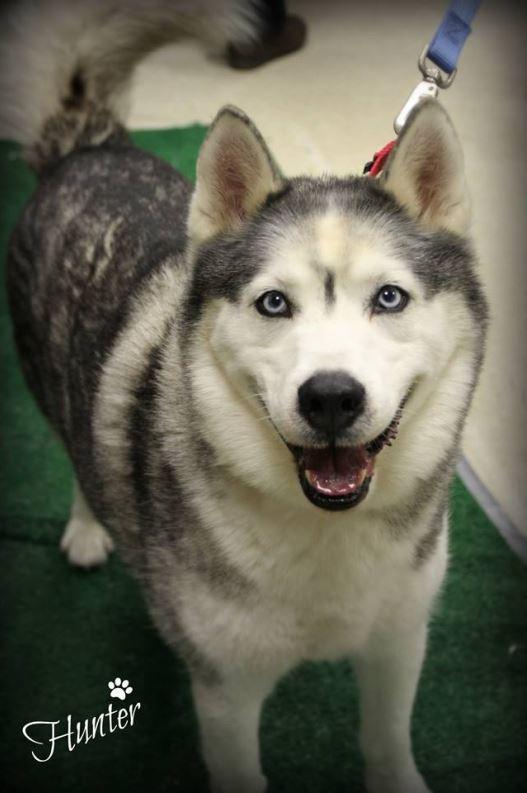 This beautiful boy is just full of life! If you know and love the husky breed - this fella is for you! Hunter will be 10 in February but you would never know it! He certainly doesn't act his age!
Hunter is your typical chatty, independent, frisky husky. He loves walks, and being outside snooping around. He is not great with younger kiddos, they make him very nervous, and definitely NO CATS for this guy. He seems generally fine with other dogs, but as with all of our adoptions, a meet and greet would be necessary.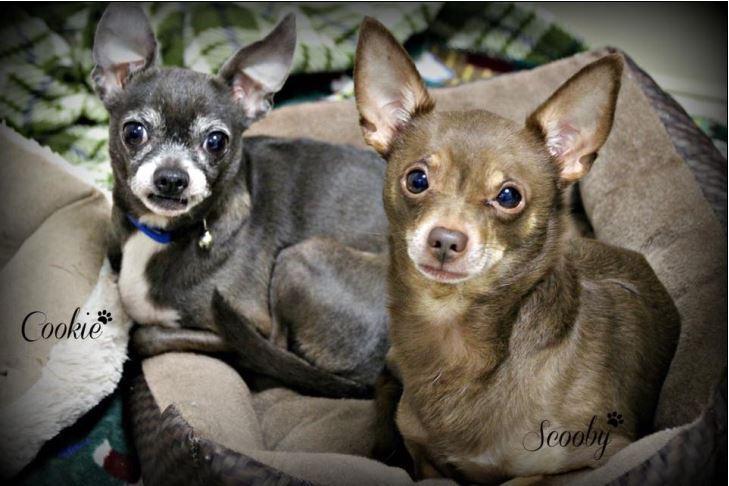 Cookie and Scooby are a bonded special needs pair of chihuahuas. Scooby has a heart condition that requires daily medication. Cookie has a seizure disorder and has occasional seizures. She is being monitored by our vet and does not require medicine at this time. They both have the sweetest personalities and love to be held and cuddled. We are looking for an owner who will spoil them and see that their medical issues are taken care of. There will be a reduced adoption fee to the qualified adopter.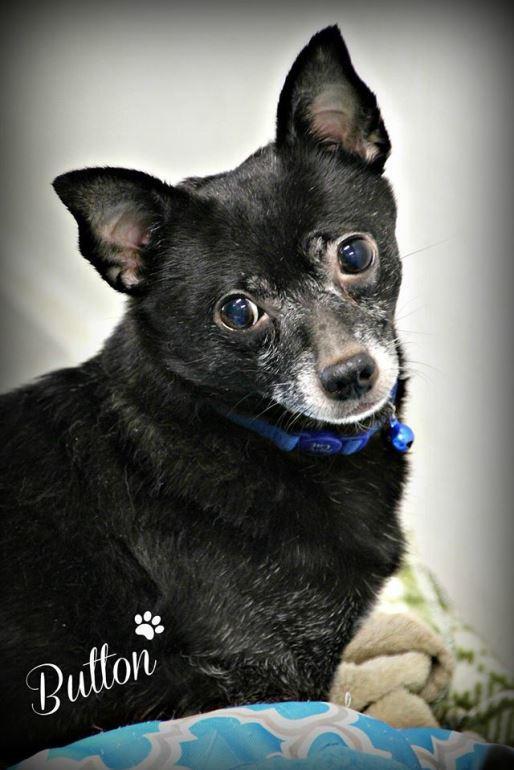 Button Button is approximately 7yrs old. He's a bit shy so he needs a patient , loving home. He may do best with another dog who is friendly and outgoing.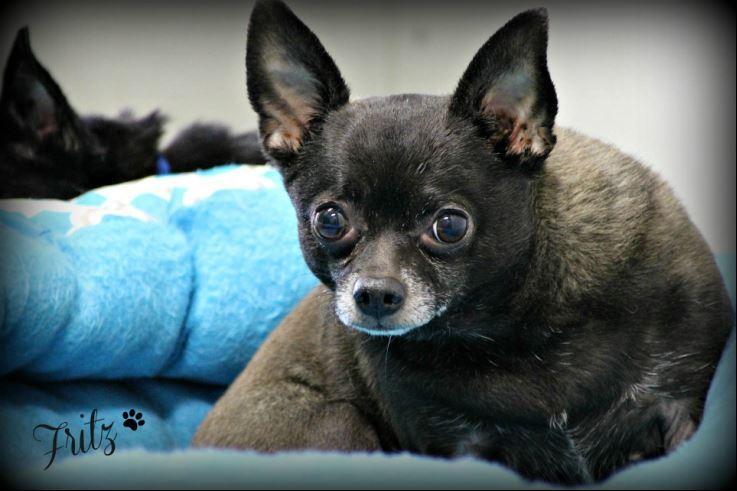 Fritz is approximately 6 yrs old. He's a bit shy so he needs a patient , loving home. He may do best with another dog who is friendly and outgoing.
---

You can visit any of our dogs at the shelter at
7540 N. Gale Street in Westfield. We're open from
1-3pm Monday through Saturday or you can make
an appointment by calling 326-PAWS or emailing
All the dogs can also be seen on the web at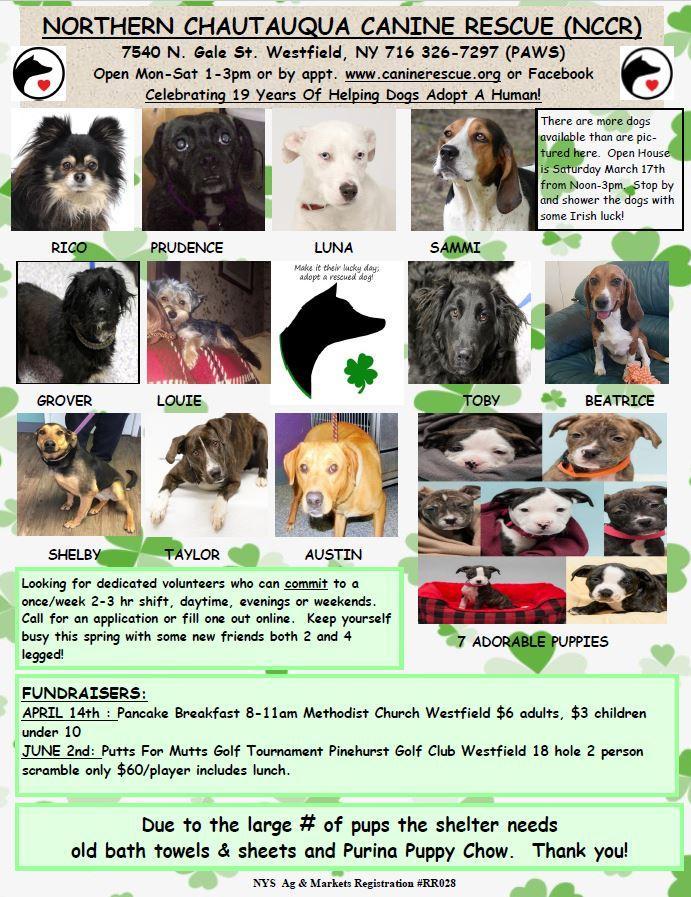 If you aren't aware, the shelter is located at 7540 N. Gale St. in Westfield, NY and is normally open Monday through Saturday from 1-3pm or by appointment by calling 716- 326-PAWS (7297). Many of the available dogs and puppies, as well as shelter information can be found online at www.caninerescue.org or our Facebook page at https://www.facebook.com/Northern-Chautauqua-Canine-Rescue-Inc-63822851822/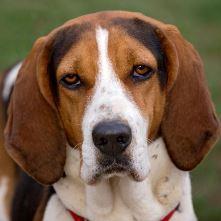 Sammi
Single, brown-eyed, active female seeking long-term companion, preferably with a fenced in yard. I enjoy
long walks and spending time exploring the great outdoors. The right
person for me will be patient, kind and respect my personal space.
Must love dogs. I'm waiting for that special someone who will take
things slow and let us really get to know each other and gain my trust
and affection. Good things come to those who wait, and I'm worth it. Get
to know me and I'll be sure to win your heart! Be my valentine and
I'll be your loyal sweetheart!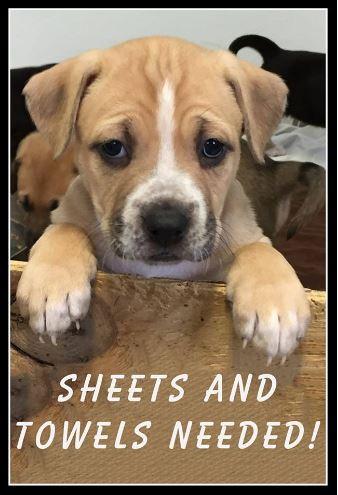 The shelter has had a number of puppies recently; in fact we currently have a litter of adorable Pitty pups that will be available for adoption in 4 weeks. As a result we are terribly low on old bath towels (not washcloths or hand towels) and old sheets. Any donations of those are very much appreciated!
Keep an eye out on FB or the website for a pancake breakfast fundraiser to be held next month; the date is to be determined. Plan ahead too for the 6th Annual Dog Gone Good Yard Sale to be held July 27th and 28th at the shelter. We will start collecting items July 1st. Thank you again for all your support!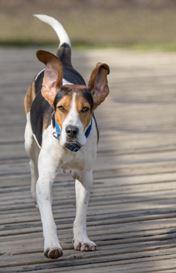 Sammi has gone from being a very scared soon-to-be-mom to a much more confident, dog friendly, people friendly girl who is now spayed and ready for a home of her own. You can read her story here http://www.caninerescue.org/sammi/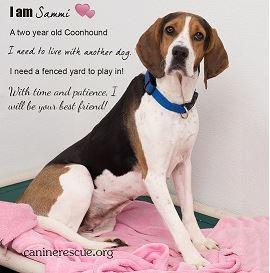 You might have heard about Sammi, who was running wild for the longest time last year, became pregnant, and through the amazing efforts of our Executive Director, managed to be caught just in time to have her puppies at the shelter the end of last year. All those pups found homes, but Sammi is still here waiting her turn. She's come such a long way, from being terrified of people, to realizing that we mean no harm to her. She needs a fenced yard, a loving family who would understand she needs time to adjust to new things, a dog companion to learn from, and a nice couch would be perfect for her!
Do you think any of these dogs might fit into your home and lifestyle? Or perhaps you can just spread the word about NCCR and the great dogs that are available so other people can see them. The shelter is located at 7540 N. Gale St. in Westfield and is open Monday-Saturday from 1-3pm or by appointment by calling 716-326-7297 (PAWS). Most of the dogs can be seen online at www.caninerescue.org.


Maybe you can't adopt but have extra time on your hands? Go to the website and fill out a volunteer application or stop by the shelter during open hours from 1-3pm Monday-Saturday and pick up an application there. There are a number of ways you can help out either hands on with the dogs weekdays, evenings or weekends or with events, fundraising or other things. The shelter is located at 7540 N. Gale St. in Westfield and their phone number is 716-326-7297. You'll make new two and four legged friends for sure!
Have you wondered about how you can help the dogs?
We are always looking for volunteers to work shifts, help at events, even just do yard work. Haven't got the time to volunteer? How about helping financially and donating your empty nickel deposit cans and bottles. Several of the local redemption centers such as Get Your Nickel Back in Fredonia, Don's Car Wash in Lakewood and Farm Fresh Variety Store Bottle & Can Redemption in Jamestown will even take your returns and send us the money!
Another painless way is by shopping via Amazon Smile and designating Northern Chautauqua Canine Rescue as your charity of choice. Amazon donates .5% of your purchases (at no additional cost to you!) to the charity you've chosen. Every penny counts!


Many of the dogs can be seen online at www.caninerescue.org. The website lists upcoming events, fundraisers, adoption successes, rabies clinics and other things. Be sure to check out our Facebook page too; you can easily spread the word about NCCR dogs by liking/sharing their images; it costs you nothing and yet might mean everything to that dog if it helps it find a home. Dogs can change very rapidly, so if you're looking for something specific, keep checking back!
Come find a new friend, be it a couch potato or a running buddy, we have all shapes, sizes and colors waiting for you! If you haven't been by the shelter lately, stop on in! We're located at 7540 N. Gale St. in Westfield and are open Monday-Saturday from 1-3pm or by appointment by calling 716-326-7297. Most of the dogs can be seen online at www.caninerescue.org or check out our Facebook page too.
As always, we love to hear about any of our dogs that you adopted. If it was last week, last year or 10 years ago, please drop us an email and a photo. This is NCCR's 18th year of "helping dogs adopt a human"! We remember many of the dogs that pass through the doors; your notes, emails and photos help make it all worthwhile!
---
ALL CATS AT WSCR HAVE BEEN SPAYED/NEUTERED. ALL CATS ARE UP-TO-DATE ON THEIR VACCINATIONS. CALL 326-2404 TO SCHEDULE A VISIT WITH ANY OF THESE WONDERFUL CATS.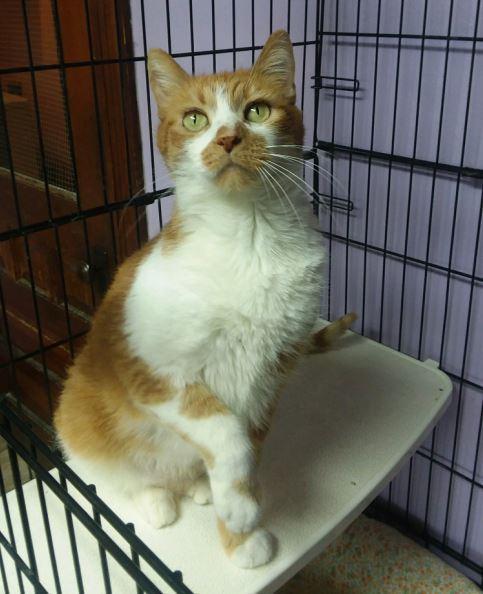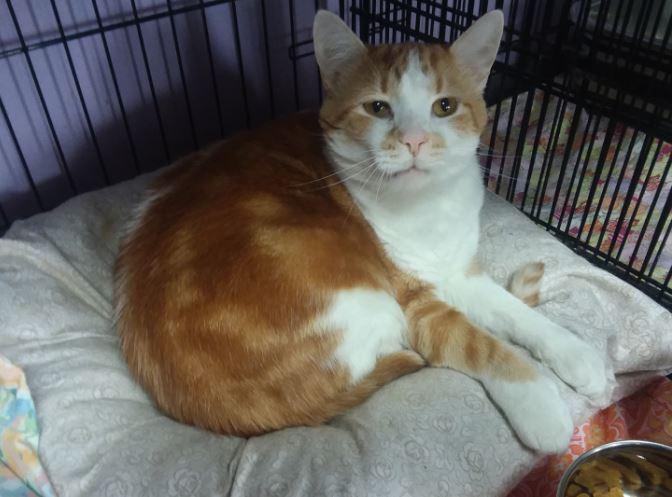 ROSCOE: Roscoe is a very friendly, social guy who loves to nuzzle with people. Roscoe has a winning personality and would be a good addition to an active family. Roscoe has a brother, Quincy, who is very shy & depends on Roscoe. Roscoe & Quincy will be adopted together.
Bonded brothers, Roscoe and Quincy were found in a rural area & left to fend for themselves in January. One at a time, days apart, they found a kind person who fed them until they came to WSCR. These two must go to the same home as Quincy is very shy, and Roscoe devotedly stays by his side for reassurance. Both happily accept gentle petting. Both Rosecoe & Quincy are 5 years old.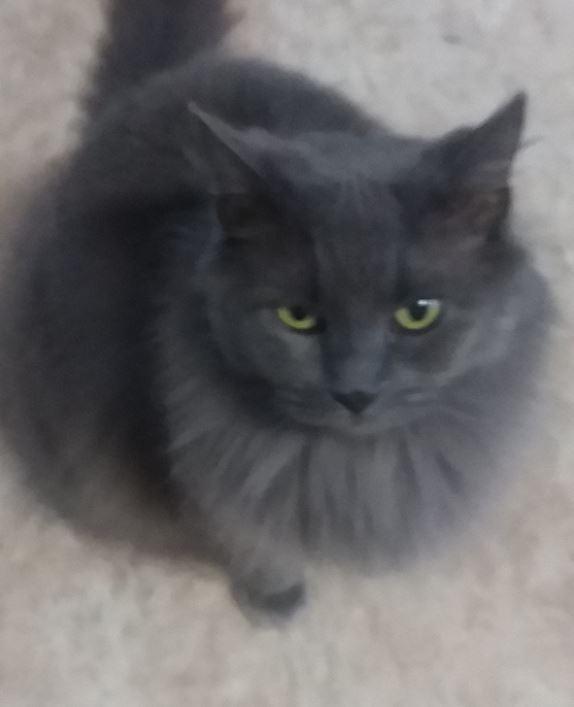 Snookie is a four year old calm and gentle long haired beauty who arrived with Gino. She loves basking in the sun on the cat tree and enjoys being brushed, which is a good thing given her long fur coat! Always quick to purr when petted!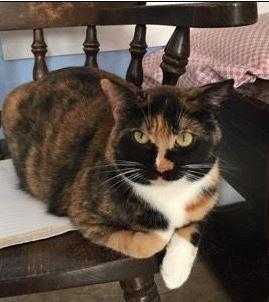 Belle is a gorgeous Calico who is about 2 years old. Belle is very frisky and loves running around chasing her cat toys! The belle of the ball is Miss Belle! She is very friendly & enjoys the attention of everyone who comes to visit. She would be a great companion for your family!!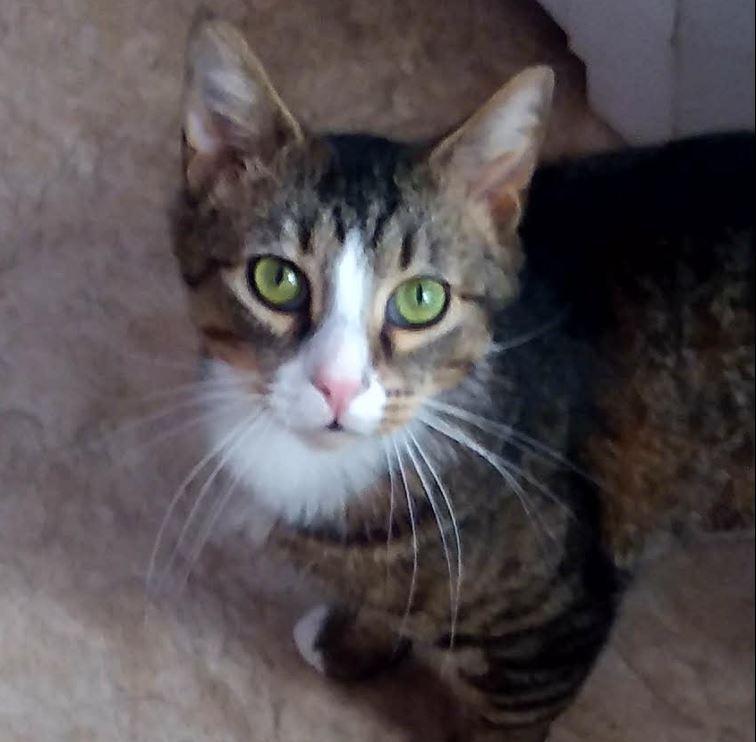 Rocky is a very friendly and social guy who is 1 year old. Rocky loves to play with the other cats in the shelter. Rocky gives "hugs" when held by someone.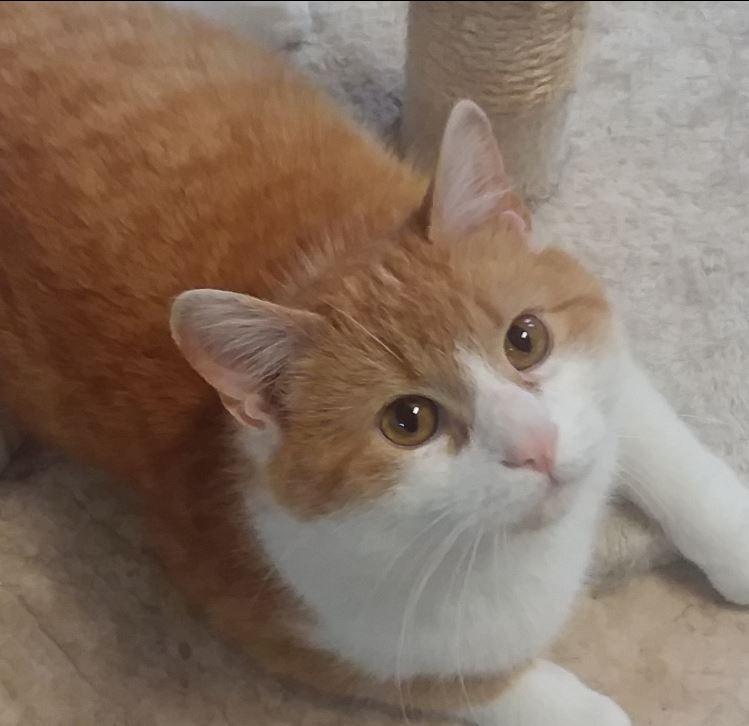 Linus is relatively new to WSCR, but has settled in quickly, often observed trying to be a comforting friend to new arrivals. Super friendly, this young boy will often chirp when he sees volunteers enter the room. He seems to have an endless capacity for human affection and enjoys chasing anything that rolls!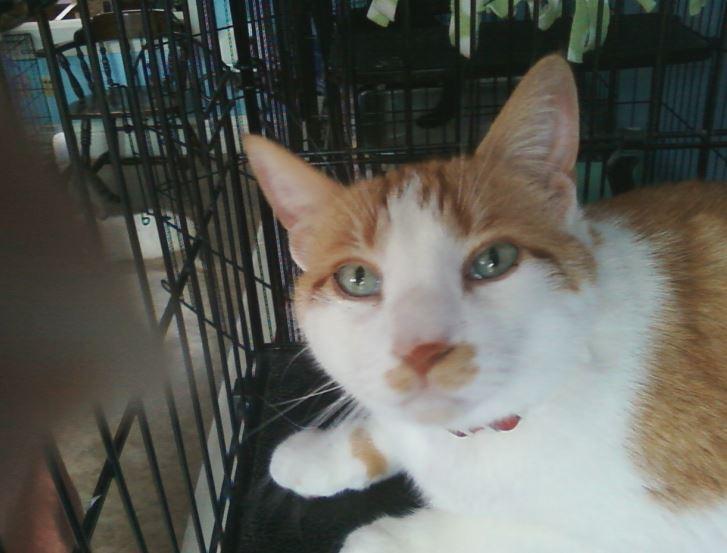 LUCKY: "Lucky" is 7 years old & really enjoys attention. Lucky needs someone mature who could invest time & love in him. His interests include quiet time with his purrson, watching birds & interacting with visitors." Lucky would do best in a home with no children.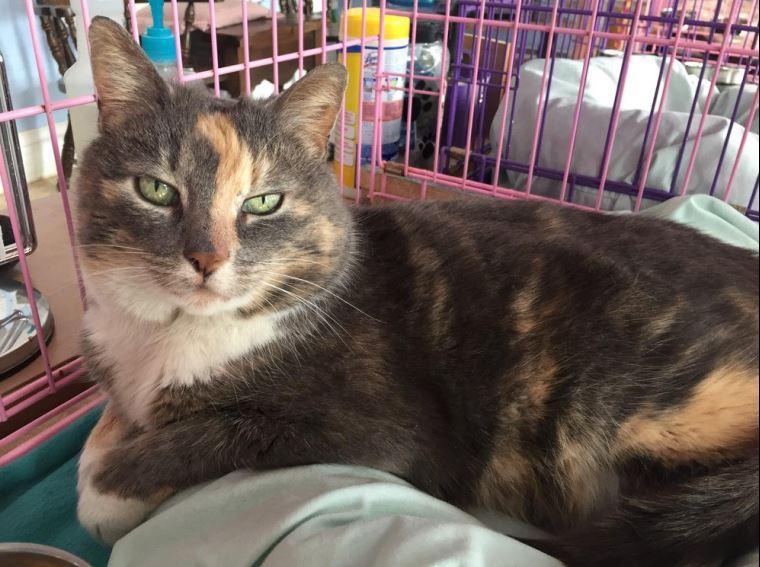 LILY: Lovely, sedate Lily! She is 3 years old and is a gorgeous Pastel Calico. Lily is very calm and enjoys being brushed; she would make a wonderful companion for someone who wants a lap cat. Lily has been well-socialized and is a quiet, beautiful girl who would give unconditional to the lucky person who adopts herLY: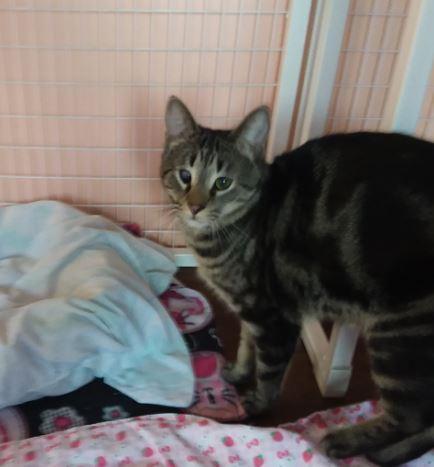 JOBY: Here is Joby! He is a striking Marbled tiger who is a love bug! Joby is about a year old & will win over your heart. Joby suffered a trauma to his right eye as a kitten but sees just fine - playing & enjoying life!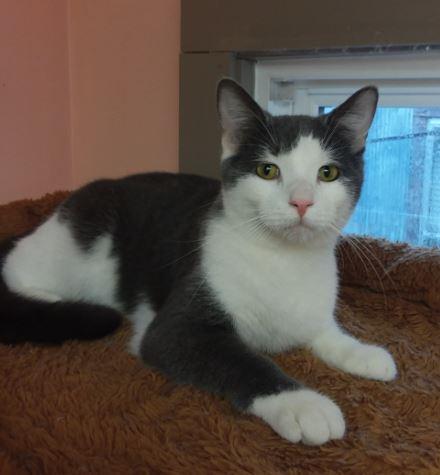 HANK: Handsome Hank!!! He is a striking gray & white cat who is super friendly & easy going. Hank is nine months old, loves to cuddle and is well socialized, getting along with the other cats. Hank enjoys playing with his cat toys and is very active.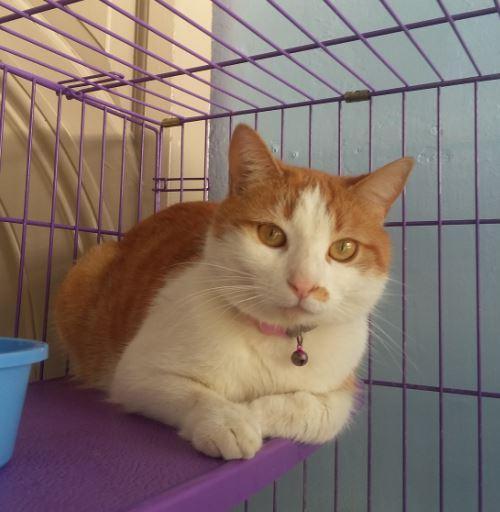 GRACE: Grace is a sweet, petite & affectionate little girl who is about 2 years old. She has been spayed, has all her current vaccinations & is ready to meet YOU!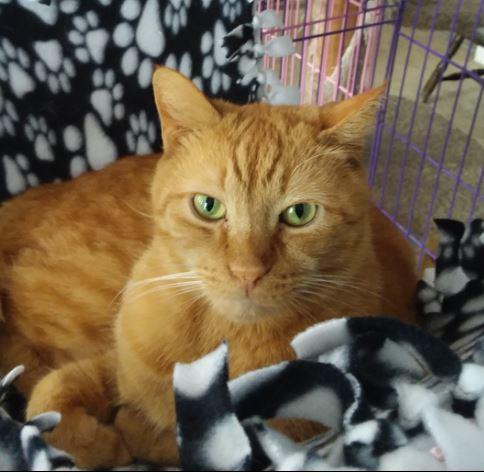 GINO: This sweet boy is 2 years old and is a love bug! Gino is very well-socialized and enjoys cuddling with visitors at the Shelter. He is a gorgeous orange tiger who is missing a hind leg but that does not hinder Gino from running and climbing around on the cat furniture. Gino has been neutered, has all his vaccinations and is waiting for that special someone to adopt him.
If you are interested in adopting any of these cats or any of our other many felines in need please call (716) 326-2404 or email us at thriftykitty@fairpoint.net. Feel free to see our other kittys at our website www.westfieldstraycatrescue.com also please visit our Facebook page at www.facebook.com/westfieldstraycatrescue

which contains a link to petfinder that lists the WSCR cats that are available for adoption.
You can visit any of our cats Monday-Friday from 10AM to 5PM and Saturdays 10AM-2PM at the Thrifty Kitty located at 59 E. Main St. Westfield, NY.
The cats at Westfield Stray Cat Rescue are up to date on all their vaccinations and have been tested negative for both Feline Leukemia and FIV.